Hail Smiling Morn
Sadly, this book is now out of print and is no longer available from Oldham Education & Leisure Services. However, second-hand copies can often be found on internet book stores and auction sites.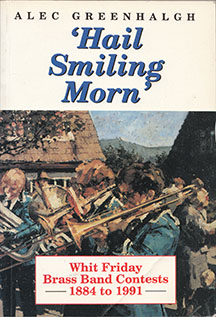 Hail Smiling Morn
Whit Friday Brass Band Contests 1884 to 1991

Alec Greenhalgh

324 pages

Oldham Education & Leisure Services

English
The book outlines the origins and history of the brass band contests in Saddleworth and Tameside. One section lists all the band contests by year, from 1884 to 1991, together with their prize winners and (where known) the number of bands who entered. Another section lists each venue's history - the years they hosted a contest and again the prize winners. Finally it has a Roll of Honour section, containing an alphabetical list of successful bands at the Whit Friday contests, shown by year, venue and placing. Altogether, an excellent source of reference.
You have to ponder about Stalybridge Ancient Shetherds Band - who came 3rd at Sralybridge in 1883 then 2nd in 1884 and ne'er a mention since.